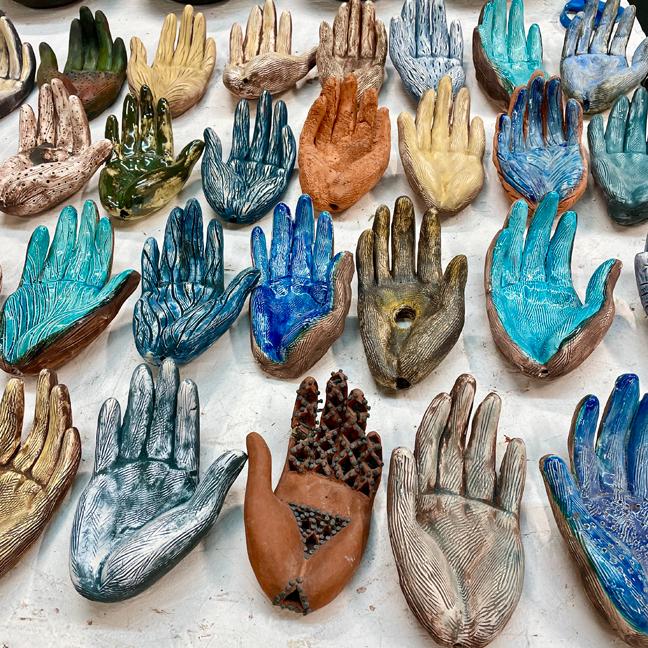 Indira Freitas Johnson
A Gathering of Energies, Labor and Love
Solo Exhibition - Cultivator at Bray Grove Farm
Sunday, May 22, 2022, 2-5pm
Cultivator is pleased to present Indira Freitas Johnson's outdoor exhibition, A Gathering of Energies, Labor and Love during Bray Grove Farm's Spring Farm Day.
Please rsvp and join us on Sunday, May 22nd from 2-5pm for art, conversation, light refreshments, and a tour of the farm. Bray Grove Farm is located 70 miles southwest of Chicago in Grundy County. To confirm your attendance and receive directions and parking information, kindly email.
A Gathering of Energies, Labor and Love is a participatory art installation, bringing the rituals of Southeast Asian Rangoli art to Bray Grove Farm. Indira Freitas Johnson will create an installation of materials and objects, including natural elements such as flower petals and pinecones as well as Johnson's handmade ceramic pieces of open handforms and colorful bowls. Visitors are welcome to place the items with the artist into a colorful pattern of symbolism and meaningful community ritual.
Indira Freitas Johnson writes:
The daily labor-intensive work of Bray Grove Farm is undoubtedly not only hard work, but a labor of love. Their passion and tenacity reminds me of the parallel effort involved in the Southeast Asian folk-art tradition of Rangoli drawing. In this tradition a woman welcomes the day by painting a pattern on the threshold of her home. Throughout the course of the day, friends and family walk over the Rangoli and the process is repeated the next morning. Handed down from mother to daughter, the ritual of Rangoli is centered on the protection and wellbeing of one's family, simultaneously fulfilling the need of the individual to be part of a larger universal realm. A similar motivation to embrace the wider family and contribute to its wellbeing is intrinsic to Bray Grove farm and their commitment to holistic farming as an organic and wholesome tribute to today's life, and the wellbeing of our shared future.
This enduring persistence of labor and love is the impetus for A Gathering of Energies, Labor and Love
Ritual can transform materials and objects, so they function spiritually as well as physically. A Gathering of Energies; Labor and Love incorporates common natural materials, that are all around us, and by presenting them in a ritualistic format, reinforces the idea of the sacredness of everyday life. Mirrors that form the central circle of A Gathering of Energies reflect the sky in bits and pieces the way our vision of reality is always fragmented. Hands represent the action of Karma, bestowing kindness and nurturing each other. The empty bowls speak to us, emptying our minds of negative thoughts thus opening a space for positivity. A Gathering of Energies uses universal symbols and geometric patterns meant to counter the negative forces of imbalance with the positive powers of wholeness and vitality.
Creating A Gathering of Energies, Labor and Love is a collaborative process. Guests will be invited to join in placing collected materials, like the pinecones which have been collected on Bray Grove Farm and others gathered from various neighborhoods, branches, flower petals and leaves. Together we can create this Labor of Love that embodies wishes for the wellbeing of our community celebrates our place in the world community and demonstrates our collective hopes for a peaceful world.
Indira Freitas Johnson is part sculptor, cultural worker, peace activist and educator. She grew up in Mumbai, India, influenced by an artist father, an ardent follower of Gandhi's teachings and a social activist mother. Her public art and community-engaged projects have addressed a broad spectrum of peace and social justice issues including those of ethnicity, gender, domestic violence, literacy, health, and the environment.
Johnson received an MFA from The School of the Art Institute of Chicago after undergraduate degrees from Sir J.J. Institute of Applied Art and the University of Bombay. She has been the recipient of numerous grants and awards including the Illinois Arts Council, Virginia Groot Foundation, Arts International Traveling Fellowship, Kohler Company, Arts and Industry Grant, PEW Charitable Trust, the Illinois Governor's Award for the Arts, and Chicago Magazine named her the 2013 Chicagoan of the Year.
Her art has been exhibited nationally and internationally and is represented in numerous private and public collections including the Chicago Museum of Contemporary Art, Rhode Island School of Design Museum, Providence, RI, Mobile Museum of Art, Mobile, AL, University of Illinois, Champaign, Chicago Veteran's Home, Kohler Art Center, Sheboygan, WI. City of Evanston, and the Chicago Transit Authority.