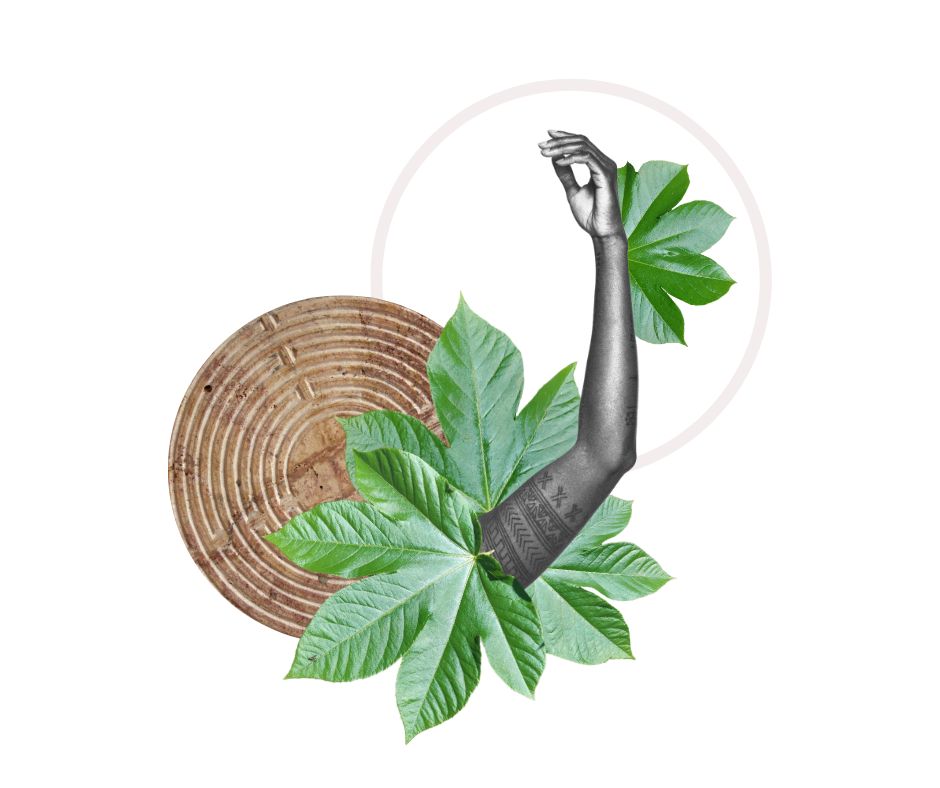 Alexandra Antoine
Pathways

: On Reflecting, Wisdom and Meditation
Solo Exhibition - Cultivator at Bray Grove Farm
Sunday, October 16, 2022, 2-5pm
Cultivator is pleased to present Alexandra Antoine's outdoor exhibition, Pathways: On Reflecting, Wisdom and Meditation during Bray Grove Farm's Autumn Farm Day.
Please rsvp and join us on Sunday, October 16th from 2-5pm for art, conversation, light refreshments, and a tour of the farm. Bray Grove Farm is located 70 miles southwest of Chicago in Grundy County. To confirm your attendance and receive directions and parking information, kindly email.
Pathways: On Reflecting, Wisdom and Meditation is a participatory art installation. Antoine uses herbal plants and portraiture collage within the pathways of a labyrinth design installed on the lee of the farm's windbreak. Influenced by her Haitian farming ancestry and her mother's homemade herbal remedies, the artist hopes that this new work will offer the viewer a moment for reflection and ease, create a space to practice meditation in motion, and provide acknowledgement of the ancestral wisdom and understanding that leads to internal wellness.
Alexandra Antoine is an interdisciplinary visual artist and cultural apprentice based in Chicago. Her work acknowledges the influences of her Haitian culture and interest in portraiture, food, farming, and physical labor in traditional artistic practices of the African diaspora. She has held solo exhibitions at boundary, Chicago Art Department, and Rootwork Gallery in Chicago. Group exhibitions include Southside Community Art Center, Haitian American Museum, Stony Island Arts Bank, and Acre in Chicago as well as Flux Factory (NY) and Arts in Embassies Program, Port-au-Prince, Haiti. Antoine has completed residencies at Spudnik Press, Hyde Park Art Center, and Urban Growers Collective in Chicago in addition to Acre (WI), Ox Bow (MI), and Fabric Workshop and Museum (PA). She is the current artist in residence at the Legler Regional Library, Chicago. Antoine received a BFA in Fine Arts and Arts Education from the School of the Art Institute of Chicago.