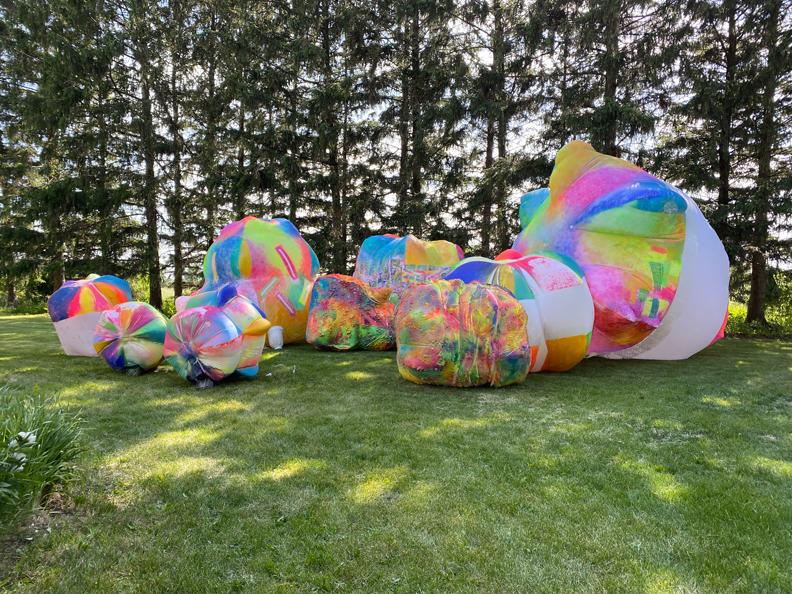 Claire Helen Ashley
Prairie Pods
Solo Exhibition - Cultivator at Bray Grove Farm
Memorial Day, Monday, May 29, 2023, 2-5pm
Cultivator is pleased to present Claire Helen Ashley's outdoor exhibition, Prairie Pods, during Bray Grove Farm's Spring Farm Day.
Prairie Pods is a participatory outdoor art exhibition at Bray Grove Farm. The artist's colorful inflatable sculptures will provide a whimsical display against the backdrop of the farm, as the audience is invited to step inside some of the pieces to bring them to life.
Please rsvp and join us on Memorial Day, Monday, May 29th from 2-5pm for art, conversation, light refreshments, and an afternoon on our small holistic farm. Bray Grove Farm is located 70 miles southwest of Chicago in Grundy County. To confirm your attendance and receive directions and parking information, kindly email.
View Video documenting Claire Helen Ashley's installation for Cultivator at Bray Grove Farm generously contributed by Eric Scott Fisher here.
Artist Statement
Prairie Pods - I often think about the work I make as my alien offspring of sorts ;) Creatures with their own personalities, aesthetics, language, look, quirks, etc. misbehaving out in the world, exploring with abandon. In this farm setting on the prairie, I'm interested in my inflatables operating as living organisms such as seed pods, cocoons, eggs just about to hatch, etc. rolling through the landscape in discovery mode, causing a ruckus perhaps and getting their sillies out.
- Claire Helen Ashley
Scottish born, Chicago-based artist Claire Helen Ashley mines the language of painterly abstraction, monumental sculpture, and slapstick humor to investigate inflatables as painting, sculpture, installation and performance costume.
These works have been exhibited nationally and internationally in galleries, museums, site-specific installations, performances and collaborations at venues such as The Henry Moore Institute (Leeds, England), Art Basel (Kassel, Germany), The Balloon Museum Paris, Grande Halle de la Villette (Paris, France), Beacon Arts Centre (Greenock, Scotland), Crystal Bridges Museum of American Art (Bentonville, AR), Laumeier Sculpture Park (St. Louis, MO), Elmhurst Art Museum (IL), Milwaukee Art Museum (WI), The Chicago Cultural Center (IL), and the MCA Chicago (IL). Ashley's art has been featured on blogs such as Studio International, VICE, Hyperallergic, and Artforum, and in magazines such as Sculpture Magazine, Art Papers, Boston Globe, Chicago Tribune, Time Out Chicago, Yorkshire Post, and Condé Nast Traveller (European).
Ashley received her MFA from the School of the Art Institute of Chicago, and her BFA from Gray's School of Art (Aberdeen, Scotland). Currently, she teaches at the School of the Art Institute of Chicago in the Department of Contemporary Practices, and the Department of Painting and Drawing. She has an old husband, three young adult offspring, two dogs and three cats.
www.claireashley.com
@clairehelenashley
Click on thumbnails below to view larger images of Claire Helen Ashley's Cultivator exhibition at Bray Grove Farm: