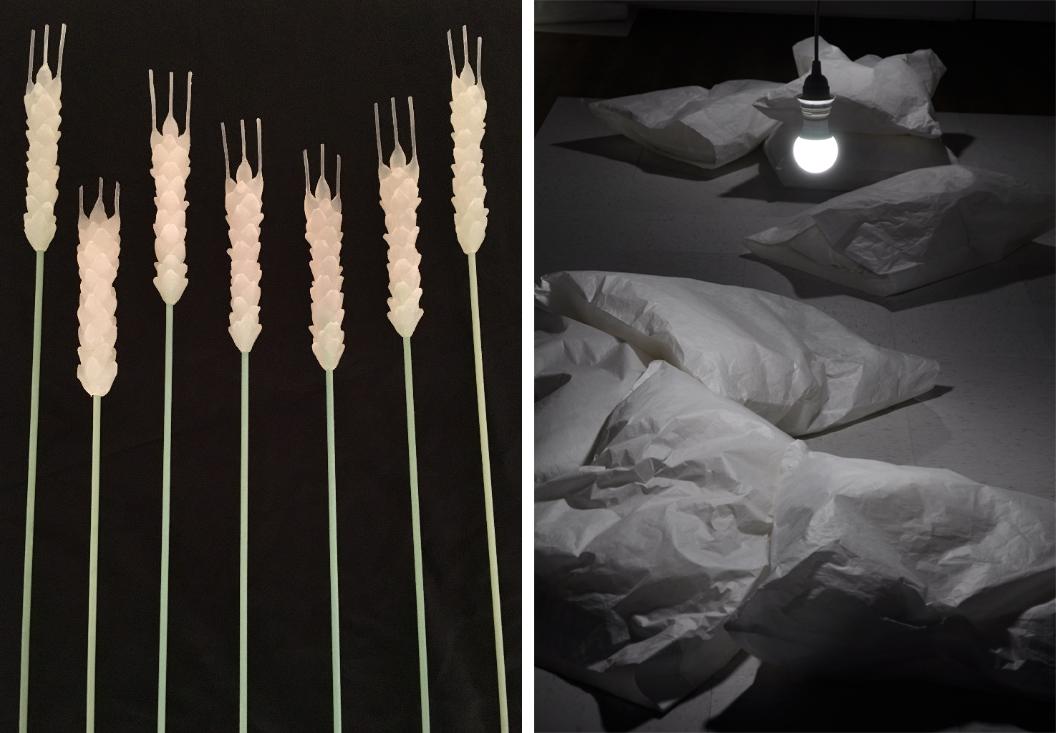 Steven Carrelli - Marginalia

Yoonshin Park -

Passing hours, space in between, I am breathing your air



Two Solo Exhibitions - Cultivator at Bray Grove Farm
Sunday, September 19th, 2-5pm
Cultivator is pleased to present two solo exhibitions by Steven Carrelli and Yoonshin Park at Bray Grove Farm. Each artist will be reinterpreting previously created artworks in the farm setting.
Carrelli's gently swaying resin wheat stalks will lure viewers around the edges of the meadow and farm fields, providing moments for contemplation, like the decorative marginalia of illuminated manuscripts. The sunlit ghostly forms give a provocative nod to the grain's past agricultural prominence in the region as well as its symbolism of prosperity and rebirth.
Park's delicate paper pillows slowly breathe, with the light and shadows creating a eerie and timely mood of reflection. The artist describes previous installations of this sculpture as "transient, temporary, and vulnerable." With this exhibition during the current pandemic, the piece takes on additional meanings as the viewers are required to be masked and physically distanced in our farm equipment garage.

Please rsvp and join us on Sunday, September 19th from 2-5pm for art, conversation, light refreshments, and a tour of the farm. Bray Grove Farm is located 70 miles southwest of Chicago in Grundy County. To confirm your attendance and receive directions and parking information, kindly email.
Please note, we will be following CDC guidelines with the health and safety of our guests a priority. While outside, masks are not required for those fully vaccinated but please be respectful of physical distancing. If you are not vaccinated a secure mask must be worn at all times. All attendees will be required to wear masks while inside viewing Yoonshin Park's installation, we will have a supply on hand if you forget yours. To provide optimum experience of her installation, only two guests will be allowed inside at a time. In addition, Bray Grove Farm is a no-smoking site.

Click to read more details about Steven Carrelli's exhibition, Marginalia.
Click to read more details about Yoonshin Park's exhibition, Passing hours, space inbetween, I am breathing your air.
Steven Carrelli photo credit: John Lustig